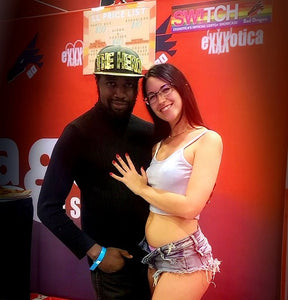 Exxxotica New Jersey 2022
My first venture into the world that is Exxxotica.

       This was an amazing exxxperience for me. I've been trying to go for a few years but the timing was never right. The crowd, the models, everyone was infectiously nice I didn't want to leave. It was great getting to meet some of my favorite adult Actresses such as Alex Coal, Violet Myers and Lilly Bell. As well as discovering new ones like Rebel Rhyder & June LoveJoy. Not to mention all of the MFC & Chaturbate models


(Hero Vision pt. 1)

       There was so much to do, something was going on every moment of each day. From panels about Sex education, to live moaning contests. From getting flogged to getting tied up shibari style. Models were pole dancing, getting foot massages, getting spanked, giving lap dances, and so much more. I went all 3 days and STILL don't think I saw it all. And the fact that every day was different, just added to the exxxperience. Everyone building each up with flirtatious interactions. It's an amazing thing to be able to be so free without the stigma of being labeled a pervert. Speaking as someone who has never even been to a strip club.
(Hero Vision pt. 2)

      You'd expect an event like this to be packed with single men but I was pleasantly surprised to see so many couples just enjoying the lifestyle. There were a good number of programs geared towards couples.


(Hero Vision pt. 3)

     Such a friendly atmosphere. I made some new friends and even made some contacts that I hope to work with in the future. The Sexpositivity was through the roof. People all shapes and sizes were exuberating so much confidence. It felt like I was in a movie where every single person was a model. People who weren't even part of the event looked amazing. Some even came in cosplay!


(Hero Vision pt. 4)

    The venue was great. Going to conventions, one of my biggest fears is that the venue can't support the crowd. People coming from all over, I knew the crowd was going to be massive but the venue could handle it. Countless number of booths, and vendors, not to mention the panel areas, gigantic displays, and the main stage. The whole thing just felt larger than life.


(Hero Vision pt. 5)

    Exxxotica New Jersey 2022 the biggest event in NJ. Where you can be free to express your sexual side and not feel bad about it. While being surrounded by a tsunami of people with the same mindstate. Where you can network, conduct interviews, and hangout with all your favorite adult actresses. As well as discover ones you've never known. I honestly can't think of a better time to be had than at Exxxotica. If i had the means, I would go to all 4 shows they have a year. But as of now, I'll just look forward to 2023!
- The Hero



Model - Alex Coal with Everyone's Hero
Your browser does not support HTML video.
    Alex Coal was the #1 adult actress I was hoping to meet. She was so extremely nice, sweet, and full of smiles, full of hugs, down to earth. Extremely wonderful to be around. It was so surreal, I didn't want to stop chatting with her. And I can honestly say, our interactions made the whole weekend 10x better. One of the few people I had to see multiple times. If I could, I would've just stayed at her table all day long.

Model - Rebel Rhyder with Everyone's Hero
    Rebel Rhyder was a new model to me, and I'm so glad I got the chance to meet her. She was so nice, and just amazing all around. Being the vanilla kind of man I am, I had actually never had a lap dance before. (Despite being in 6 relationships, and one of them being marriage) I couldn't ask for a better way to lose my lap dance virginity. Undoubtedly another one of my favorite interactions all weekend. One of the few models, I had to see more than once.
Model - Violet Myers with Everyone's Hero

  Violet Myers had the longest line all weekend. I was so lucky that one Saturday, I was the last person before they capped the line. She was super nice and could feel the energy just flowing out of her.
Model - June Lovejoy with Everyone's Hero

   June LovehJoy was amazing to meet. With such a cheery attitude and playful demeanor. I regret only stopping by once all weekend. But even that one time, made my whole day that much better!
Model - Emma Sirus with Everyone's Hero

    Emma Sirus had such a beautiful kind spirit. One of the main models I was hoping to run into. She made all her fans happy, and had the most positive atmosphere. One of the only models I was lucky enough to see all 3 days! So incredibly glad I got the honor of meeting her. Kind, beautiful, what more could ask for?
Model - Lilly Bell with Everyone's Hero

   Lilly Bell, another model I regret I only saw once. She was such a sweet person. She was so fun to talk to, it got to the point that I forgot I was speaking with an adult actress. That's all you can hope for and more, when you meet stars like this.


Models - Sammy Torres & Abigaiil Morris with Everyone's Hero

    Sammy Torres & Abigaiil Morris a dynamic duo that stole the show with their energy and great attitude. They were both so playful and awesome to be around, it was so amazing to be able to meet such amazing individuals.
Model - RubberDoll with Everyone's Hero

---